http://www.youtube.com/watch?v=EKmYlnQv_dg
All of the sudden,
Thunderstruck
blasted through the speakers. The crowd was confused; they had never heard this music before.
From backstage, a tall man dressed in a black suit with a white tie and a pin of the Sweden coat of arms walked out, holding a microphone. He grinned as he scanned the quiet crowd.
"Hello, Extreme Wrestling Federation's fans."
He had a thick, barely audible Swedish accent.
"My name... is Thor Olof Ander Jørgensen... but you can just call me Thor. I am the God of Awesome, The Viking... and EWF's new cheif executive officer. That's right. No more stupid anonymous messages. I will speak to anyone and everyone in person. And what do you know? You might even see me kick ass once in a while... now, as CEO, my first act of business is... to introduce to you, the new EWF logo! With a new CEO, comes a new logo... a nice fresh start, huh? Get rid of that boring old one. Nobody liked it anyways, I'm sure"
He turned to the titanTRON, where a picture appeared.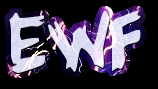 "Well, what do you think, guys?"
The crowd cheered.
"Now that we've got that all sorted out, my second order of business is... to fire The Nightcrawler. Now that he's gone, I just want everyone to know that
he
was the CEO, and
I
gave the title to The Rock."
Once again, the crowd boomed; most were not very fond of The Nightcrawler, and preferred The Rock anyways. Thor paused, gazing the crowd once again.
"So, if anyone wishes to speak to me, do so now."